Before the 2013 Formula 1 season started, the safe money would have been on Sebastian Vettel to win, after all he'd just won three championships in a row. Pushed to predict other worthy competitors; Lewis Hamilton or Ferrari's Fernando Alonso may have been named. It's fair to say that few people would have plumped for Kimi Raikkonen, a returning champion racing for a team with only one season's experience.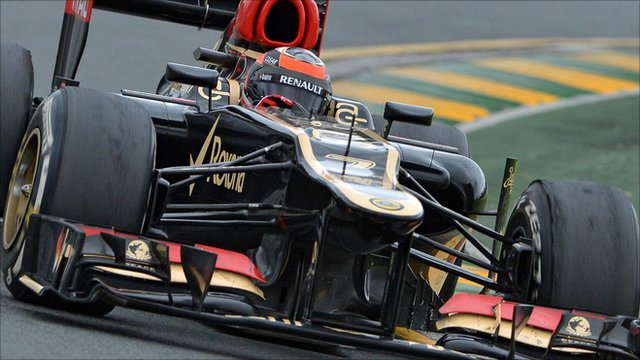 Five races into the championship, however, and Kimi's looking on good form this year. He's consistently won points for Team Lotus and has been on the podium three times. He even won the first race of the season, in Melbourne, Australia. Now, after coming second in the Spanish Grand Prix, he's only four points away from championship leader, Sebastian Vettel. So the big question is – can Raikkonen win it this season? Here are a few reasons why 2013 could see a return to form for the 2007 F1 World Champion.
Good relationship with Grosjean
Strained relationships between drivers can create problems for a team. This season's big spat is between Mark Webber and Sebastian Vettel. And who can blame Webber for being annoyed after Vettel ignored team orders in Malaysia. This creates problems for Red Bull. Webber will be unwilling to step aside for Vettel in the future, which could hamper championship chances if there's a narrow points margin at the end of the season.
Raikkonen's relationship with teammate Romain Grosjean shows none of these signs of strain. In fact, when describing Grosjean, Raikkonen said "We had a pretty good relationship last year… On track we were pretty close to each other at times but we didn't have any issues. It's good when you have a teammate who's fast and works hard."
2012 was a triumphant return to form
Recently the most famous return to F1 was when seven-time world champion, Michael Schumacher, left retirement to drive for Mercedes. After a break of three years, Schumacher had lost his edge. His drives seemed somewhat lacklustre when compared to his race winning form during the glory years.
Kimi Raikkonen had also retired from F1. He left in 2009 to take part in the World Rally Championships and his return to F1 for the 2012 season was hailed with little excitement. There seemed little to celebrate. He had appeared demotivated before he left and was returning to drive for a team that was new to the grid. Despite all this, he was the only driver to complete all of the races in 2012 and finished third in the driver's championship behind Vettel and Alonso – which must have taken many fans by surprise.
Lotus is different from his previous teams
Despite winning the World Championship for Ferrari in 2007, Kimi Raikkonen announced his retirement from the sport in 2009. Throughout his career he had mainly driven for two of the biggest names on the grid, Ferrari and McLaren, but somehow he didn't seem to fit well with either team.
As Eddie Jordan recently asked about Kimi "Is he the most bizarre grand prix winner and world champion you've ever come across?" Certainly Raikkonen's taciturn manner can make watching interviews an amusing experience and he's far too honest a guy to manage sponsorship relationships in the way that PR managers would like.
Unlike Ferrari and McLaren, Lotus is a new team that does things differently. They're happy for him to arrive late to meetings, as they know he can deliver the results on race days. They allow him to be himself and leave him to concentrate on the thing he does best, driving.
Lotus manage tyres well
Problems with tyres can create the kinds of accidents you'd be hard pushed to describe on an insurance claim form. This season, tyre wear is an issue that is dogging many of the teams on the grid, especially the current champions, Red Bull.
Lotus, on the other hand, have so far shown that they are managing tyre wear well during a race – a strategy which helped them to reduce pit stops at the Australian Grand Prix and win the race. If their tyre management remains a strength throughout the season, they may well be able to clinch the title this year.
He knows what he's doing
In Abu Dhabi last year, Raikkonen famously responded to team radio instructions with "Leave me alone. I know what I'm doing." Raikkonen is a man of few words, which has lead to some fairly hilarious quotes, but this may be the truest thing he's ever said. Raikkonen clearly does know what he's doing, and he does it well.
Raikkonen's strength at Lotus last season was his consistency. And it's consistency that matters in a nineteen race season. With that in mind, if he can maintain that consistency, there's a good chance that Kimi could win this year.