Ferrari 575 is an easy and comfortable car to drive. The famous auto manufacturer wanted to create a car that will not need the driver to have special driving skills.  This 575 is fast and agile. It is a beautifully styled car with a Ferrari touch to it. Truly it is considered to have the sharpest handling of the badge. Its ability is massive and effortless on bends. The ability to cruise is a major factor here and this is what makes this model excel. The ride will give you some refined driving experience. The 575 was derived from 550 but proven to be much better and really defined the Grand Tour.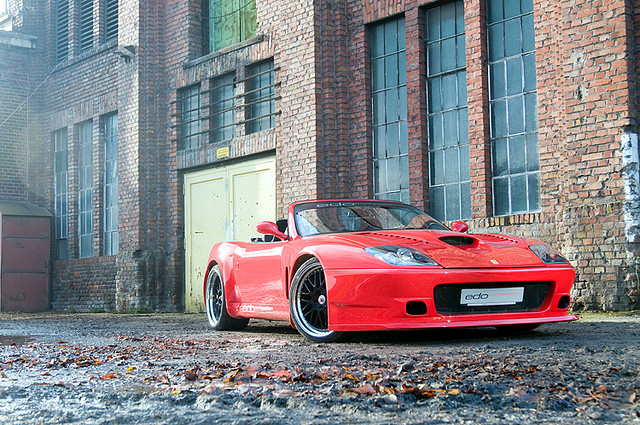 Performance
This is much quicker than the 550 as it can get to 150 mph in less than 22 seconds. The power train of 575 is more than amazing. It is driving comfort at a very steady cruise. The sensation of the speed is much like an American V8. The v12 engine is perfect for driving around town. The 5.5 liter engine produces about 434 lb ft of torque which definitely makes it powerful and tractable. The paddle shifted transmission is known to change the whole character of the car. The clutch system of 575 is said to be smoother. Ferrari has also added shocks to it that can be adjusted depending on the weight of the car. It says a lot on the quality of the road. The body of 575 can't easily flop around if you will be driving aggressively. The soft suspension is giving the car an excellent quality when it comes to driving. This is true especially when driving on tough roads. The steering wheel is very light when you are speeding slowly. The Brembo brakes are made from four piston calipers and it has anti-lock features for safety.  The traction control can be set to normal or to the Sports car mode.
Interior
The interior is very well made and will give you a feeling of luxury. It is equipped with standard equipment but then again there are certain packages that you can add. If you are tall, the inside has great amount of headroom. Whatever your size is, you will be comfortable in the driver seat. Every aspect of the cabin is covered by leather. The console is tailored fit to give you a manly ride. There are no side impact air bags.
Exterior
The profile of 575 is exhibiting classic sports car. It has a long hood and the shape resembles to a short deck. The grille has an egg crate style that is low in the front side. The side area is visible from the front wheel. Its head light utilizes a xenon system. The wheel base is measuring about 98.4 inches. The 18 inch tires are made from five spoke alloy wheels.
| | |
| --- | --- |
| Engine: 5.7 L Tipo F133E V12 | Length: 4,550 mm |
| Max Speed: 25 km/h (202 mph) | Width: 1,935 mm |
| Horsepower: 515 hp | Height: 1,277 mm |
| Max RPM: 7,250 rpm | Maximum Seating: 2 |
| Torque: 288.6 N·m (434.1 lb·ft) at 5,250 rpm | Wheelbase: 12,500 mm |
| Transmission: 6 Speed Manual | Fuel Capacity: 105 L |
| 0-60 mph: 4,0 seconds | |
| Top Speed: 202 mph | |