The BMW X6 M , flagship version of the SUV – coupe of the company from Munich and the well strong with 555 hp , has received a new aesthetic and mechanical tuning kit , born from the collaboration of two knowledgeable and professionals experts in the extreme tuning called PP- Performance and Cam Shaft.
The aesthetic part of this particular X6 M is just busy Cam Shaft: the lower Rhine, the German company has created for the impressive performance crossover original livery of a dull gray color , with some small details in matt black , able to give a safe scenic effect and available at a list price of 2,450€. The body kit includes a new front splitter in carbon fiber, new design side skirts, rear wing in carbon and a brand new air extractor – always made ​​with the expensive and lightweight material – called to welcome the brand new exhaust system equipped with four -way stainless steel.
The body kit is completed by special alloy wheels, modified with a new two-tone color combination of gold and metallic graphite carbon, available at a list price of 1,400 €. The center of gravity of the car was also lowered with the adoption of a sports suspension signed by KW, with stiffer and short springs.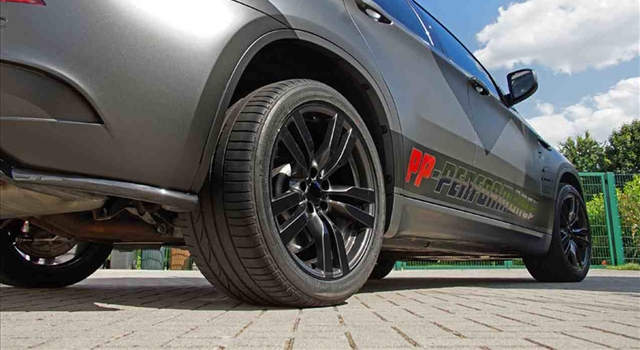 The interior of the car can be customized with an almost endless list of special accessories which includes, among other things, the sports steering wheel, the high-containment seats upholstered in leather, the inserts for the dashboard and door panels in carbon fiber , not to mention the pedals and stainless steel scuff .
If the aesthetics of this particular X6 does not go unnoticed by the aggressive details, the mechanical kit made ​​by PP- Performance promises not to disappoint the most demanding customers and thrill-seekin drivers. The mechanical kit shall include the replacement of the collectors and the new management of the electronic control unit: the results of these operations have brought the 4.4 -liter supercharged V8 from the original power of 555 hp and 680 Nm of torque, resulted in a peak power of 720 hp, while peak torque is equal to 1000 Nm the cost of this transformation is 16,000 euro and are inclusive of installation.