Arrives in Europe the new sedan Suzuki Kizashi Sport. The flagship of the Japanese company aims to attract fans of the steering wheel with a fun car to drive, with the possibility of combining interesting performance with lower power consumption. It will be available with petrol or with LPG bi-fuel version (free in the launch phase, lasting until 31 May), the price list starts at 27,800 Euros.
At the aesthetic level, this car D-segment is characterized by a double grid to "honeycomb" with chrome frame in the front, while the side stand chrome fender and profiles are equipped with integrated side skirts. On the back instead, the spoiler is integrated into the trunk and the colored bumpers emphasize the twin exhaust. The Kizashi is also characterized by a low center of gravity, with McPherson suspension .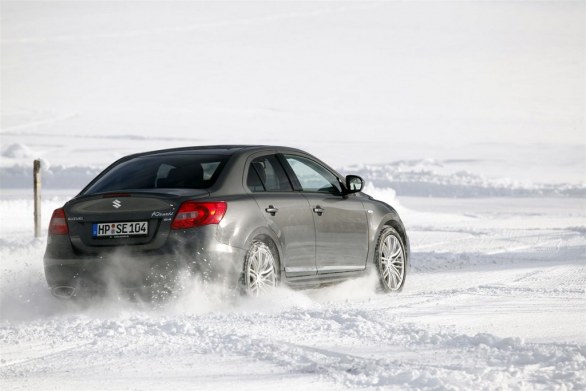 This sedan is powered by the engine 2.4-liter all-aluminum 178 horsepower and 230 Nm of torque, with dual overhead cams, to aluminum wheels reach up to 215 km / h. With the petrol values ​​in the combined cycle is 7.9 litres/100 km in the 2WD version with manual transmission and 8.3 litres/100km for the 4WD version-CVT, while CO2 emissions are respectively 183 g / km and 191 g / km.