Every true motocross enthusiast knows that the relationship between rider and machine is a special one. Getting your bike properly styled is a very important part of that relationship – and there are many online shops where you can create custom dirt bike graphic. The booming market for aftermarket graphics decal kits offers a wide variety of designs to choose from regarding design, color and shape.
Dirt Resistant and Beautiful
These kits are made from high-quality vinyl covered in a thick laminate which provides full protection against sand, dirt, and the elements. The laminate will provide full protection for countless rides and thousands of kilometers, keeping the decals as glossy and as good as the day you put them on your dirt-bike.
Moreover, once the ride is over, the decals are very easy to maintain and clean. Just use a soap, water and a cleaning sponge. The waterproof decals will shine in no time!
A Full Package for Your Bike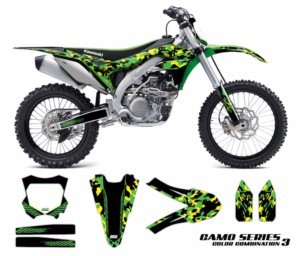 The most popular online graphics kit shops offer great looking sets at an affordable price – to cover every important surface of your bike. Each decal is digitally printed to fit a certain part of your bike – from the front cowl to the clutch pedal, you can customize your bike fully, giving it an awesome new look.
Customized decals are great way to show off your stylish metallic beast at every event – be it a professional race or an enthusiasts' gathering. The bike's eye-catching looks are just as important as its horse power!
Premade Graphics Kits from the Most Famous Brands
You can get a graphic decal kit set from the most famous dirt-bike manufacturers including Honda, Husqvarna, Kawasaki, KTM, Suzuki and Yamaha. They are tailor-made for every motocross bike model in order to highlight its beauty.
Furthermore, most online shop offer substantial discounts for multiple purchases so you can get the decals you desire, in high-quality print, at a very affordable price. You can choose from a wide variety of decal designs, as well as add your logo or a number to them, to give them a personal touch.
Fully Customized Decal Kits
For the most dedicated riders who want to turn their dirt-bike into a true masterpiece of engineering and beauty, can order fully customized decals based on their own idea or design. Usually, these unique, one-of-a-kind designs take up to seven days to be printed and ready for shipping – with the same level of quality and sturdiness.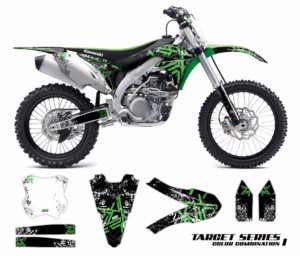 Fully customized decals are more than a style or fashion statement – they are an expression of the rider's own identity to be easily recognizable at any race or event. No matter if you are a professional mx rider or just an enthusiast who enjoys the sport, your metallic friend deserves the best care it can get.
Easily Removable Without Consequences
If you decide to refresh your dirt-bike with a new look or give it a full makeover, just use a hairdryer on the decals in order to heat them up. Once sufficiently heated, use a plastic too and gently peel the sticker off. Wipe the surface with a cloth and some soap to remove any adhesive residue and your bike is ready for the makeover.
Premade or customized, the mx graphics decal kits are a great way to show off your dirt-bike and leave a lasting impression on anyone who sets eyes on it. Always remember to stay safe and ride on with vigor!